Webmasters and SEO campaign managers examine the performance of their internet marketing campaigns by using Google Analytics.
What is Google Analytics?
Search giant Google offers Analytics as a service that generates detailed statistics on the traffic on and the origin of those sources on a website. Conversions and sales are also mentioned in the in-depth data reports shown in a dashboard view. It has become the most widely used website statistics service.
Bounce Rate and Exit Rate – Metrics for Tracking SEO Performance
The two most important terms to gauge the quality of the content on the website are represented in Google Analytics reports by the Bounce Rate and the Exit Rate.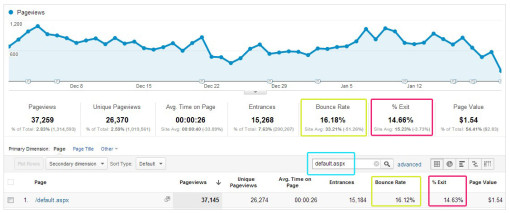 However, the two terms are often seen to cause confusion.  Let's take a look what these two terms exactly mean.
What is Bounce Rate?
Bounce rate is defined as the percentage of visitors that visit a website and leave immediately without visiting any other links/pages of that website. Bounces are always related to unitary page sessions. For example, someone comes to a page and then leaves it to go to another site without visiting any other pages of the initial website.
What is Exit Rate?
Exit Rate is the percentage of visitors who left the website but may have viewed more than one page in a single session. The visitor who exits might have visited other pages on the website but just exits on that specific page. So, Exist Rate has a lot to do with the site navigation.
Do they both sound similar? Wait; there is a difference between the two.
Difference between Exit Rates and Bounce Rates
Let's assume that a visitor arrives on the website (through search engine listing or any other source). The visitor clicks through the website and ultimately leaves from the 'about us' page. This action is counted as an 'exit.'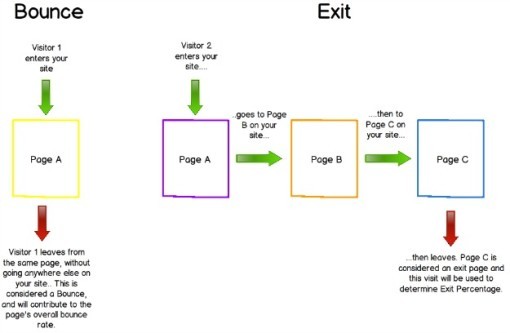 On the contrary, if the visitor to the site simply visited the site and left without visiting any other page, it would be counted as a bounce.
So what's better? High Bounce Rate or an Exit Rate
High Bounce Rate is usually considered bad for a website.  However, do take a look at the keywords that are driving up the bounce rate of the website.
Exit Rate on the other hand is considered more important for determining the interactive ability of a website and its pages.
SEO Take Away
If a big chunk of people are exiting on 'about us' and 'money back guarantee' pages, for instance, it means there is an immediate need to improve these pages.
A high Bounce Rate implies that visitors are either leaving because the landing pages aren't very good or the traffic itself is irrelevant to what your website is offering.