If your SEO campaign is run by some newbie professionals who do not completely understand the art of internet marketing or in case you opt for cheap, offshore SEO, chances are that your website will get penalized by Google. Yes, Google will penalize your site if they discover keyword stuffing, inorganic backlinks or hidden text in your web pages.
If your website's ranking has gone down recently or in case you notice a significant drop in weekly traffic, consider it a red flag. It is about time you check whether your website has been penalized by Google.
Listed below are some tried and tested tips for ascertaining whether your SEO campaign is resulting in search engine penalties:
Has your website undergone major design changes recently?
If it is so, chances are that the search engine rankings have dipped temporarily due to major design changes. Relax and monitor your website's position in SERPs (Search Engine Results Pages) for a few days.
Check  the Google Webmaster Tools account
After signing into this account, search the website you want to check and then click on 'Search Traffic', followed by 'Manual Actions'.
You will now either see a message that informs you about reasons for penalization or nothing at all.
Do you notice a drop in search engine indexing?
Check whether your website is being indexed regularly by Google. This status can be checked in Google Webmaster Tools.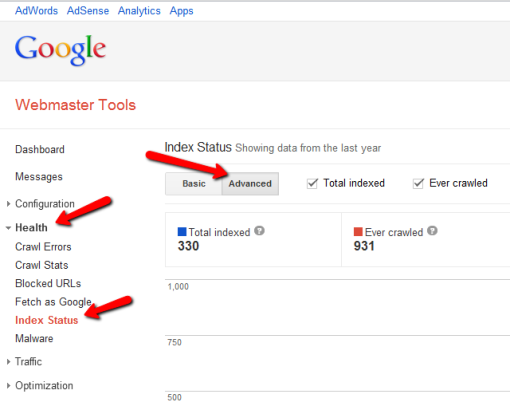 If your index graph is going downwards (like the example below), you need to check and fix your robots.txt file immediately.

Check the dates for Traffic Dips
The easiest method to check if your website has been penalized is to take a look at the drop-off dates for the organic traffic. This can be done by using the Google Analytics tool. You should now compare those dates with the timing of Google Updates. Check the recent timeline of Google Updates and perform a comparison.
You can check Google Updates Timeline here.
If a traffic dip corresponds to a Google Update, it is probably an SEO penalty.
Use the Fruition Google Penalty Checker Tool
The tool provides you with a detailed review of whether your website has been penalized or not. It will also provide you with a detailed break-down of which Google Update your website may have had a problem with.