What is Black hat SEO?
Black hat SEO is the practice of using methods that violate the terms-of-service of search engines. Some companies and independent professionals use Black hat SEO to temporarily increase a website's page rank. Put simply, it's about tricking search engines into believing that a webpage should rank higher than it ideally should for a set of keywords.
Does It Work Forever? No.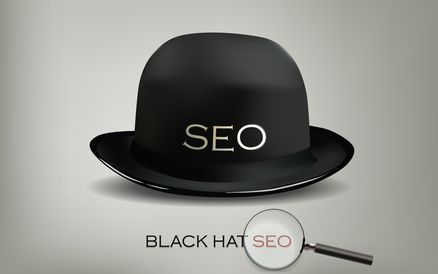 It takes no particular brains to understand that search engines, the systems backed by super computers and some of the most efficient algorithms ever created by us humans, are smart enough to figure out which websites exactly are being optimized by way of Black hat search engine optimization techniques.
Some of the major black hat SEO techniques are Link Manipulation, Article Spinning, Automated Queries, and Duplicate Content.
How Does Black hat SEO Work, in the Short Term?
Search engines process billions of queries in a fraction of second and the search results are made available on the basis of data crawled by the bots and hundreds of other ranking parameters. Black hat SEO professionals try to game this system.
One of the most common blackhat SEO strategies used by professional SEO service providers is keyword stuffing.
This involves excessive use of certain keywords within a page. These keywords have links that direct users to the targeted web pages for increasing traffic. The final goal is to somehow (anyhow) boost the page ranking.
Buying & selling links is also one of the most popular Black hat methods. Some people even use hidden text (invisible to web users) to trick web crawlers.
Pitfalls of Black hat SEO
First things first, we are strictly against the use of Black hat SEO techniques. While Black hat SEO techniques may work well for SEO veterans, they keep the target users devoid of genuine search engine experience. Naturally, search engines will retaliate at one point or the other.
If you are getting your website optimized for better visibility, make sure they are using SEO tools and techniques that are approved by search engines.
One of the biggest risks associated with black hat SEO tactics is the possibility of getting your website banned. Yes, that's one possibility.
Search engines may even exclude you from all leading traffic referral sources over the Internet. So, while black hat SEO may bring you immediate and temporary success, this strategy is not recommended when it comes to lasting ranking and reputation.
We have seen many companies coming to us after their websites were banned by search engines simply because their SEO teams tried to get exciting results overnight.
How to Report Black hat SEO?
If your website has been attacked with spammy links, you can use Google Webmaster Tools to file a web-spam report. This will help warn webmasters or competitors who have attempted to point those links or malware to your website.